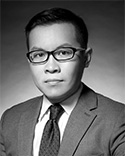 Duane Morris Vietnam LLCPacific Place, Unit V1307/1308, 13th Floor83B Ly Thuong Kiet StreetHoan Kiem District, HanoiVietnam
Đang xem: Hoàng minh đức
Minh Duc Hoang practices in the areas of corporate, mergers and acquisitions, startups/venture capital and real estate law.
Before joining Duane Morris, he was a senior associate in one of two biggest local law firms in Vietnam and in charge of real estate group. He has advised multinational companies conducting business in Vietnam on aspects of Vietnamese law affecting their businesses.
Mr. Duc Hoang is a 2000 graduate of Hanoi University of Law and National University, Foreign Language University.
Areas of Practice
Startup/Venture CapitalMergers & AcquisitionCorporate LawInvestment and Restructuring
Representative Matters
M&A AND RESTRUCTURING Acted as the leading counsel in advising a subsidiary of one of the biggest media/entertainment groups in the world in acquiring 02 entertainment companies in Vietnam; Acted as the leading counsel in advising a German manufacturing investor in acquiring business and assets of a Hong Kong-owned electronics device factory in South Vietnam; Acted as the leading counsel in advising a major State-owned enterprise on its acquisition of Daewoo Hanoi Hotel; Acted as the leading counsel in advising local shareholders of Diana Joint Stock Company on sale of majority interest to Japan-based UniCharm Group for a $200 million transaction; Acted as leading counsel in advising one of biggest German construction companies on its global restructuring and rebranding plan; Advised a group of Singapore investors to sell their African business to one of the biggest telecommunication companies in Vietnam; Advised a Singaporean company to sell shares in local real estate companies. Advised on the closing of a foreign owned carmaker and a service provider in Vietnam; Advised on bankruptcy of a Dutch-owned company in Vietnam; Advised on acquisition of shares in a local company by a giant US painting manufacturer; Advised on the transfer of shares among shareholders in numerous foreign owned companies in Vietnam. INVESTMENT & STARTUPS Advised on holding company model for a Japan-based sanitary ware company including the arrangement of distributions of intra-group companies worldwide and investment activities into local companies; Advised on the establishment of a joint venture securities company between a tops state-owned company and a giant US investment bank; Advised a US company in acquisition of a startup company in media sector; Set up two foreign owned companies provided telecom technical services in Vietnam. In addition to the provision of wide range of technical services, these companies are among the first foreign owned ones to be licensed to import accessories and excess parts to re-sell to their customers; Advised on formation of a jatropha plantation joint venture company; Advised on establishment of a Germany engineering company; Advised on establishment of a software joint venture company; Advised on formations of numerous wholly foreign owned companies in different sectors. COMMERCIAL & OTHER LEGAL SECTORS Advised on distributorship between a US owned carmaker and their dealers and outlets with respect to the sale of cars, excess parts and provisions of services; Advised on management hiring agreement for numerous hotel owners; Advised on numerous commercial contracts of various sectors; Prepared land lease/sub-lease agreement, office lease agreement and infrastructure development agreement; Prepared labor contracts, internal labor rules, operational regulations, collective labor agreements for a number of foreign owned companies; Reviewed and prepared various types of other commercial contracts. Arranged a comprehensive distribution model for a US-based food supplement producer including preparing distribution agreement between local partner, setting up subsidiary to supervise the performance of the local distributor and advising on the gradual buying-out structure of related companies.
Admissions
Vietnam
Education
Hanoi University of Laws, LL.B., 2000Hanoi University of Foreign Language, LL.B., 2000
Experience
Duane Morris LLP – Special Counsel, 2015-present – Associate, 2010-2014 – Senior Qualifying Attorney, 2008-2010Vilaf-Hong Duc International Law Firm – Senior Associate, 2003-2007B&H Investment Consultancy Corporation – Consultant, 2002-2003VICA Consultants – Consultant, 2001-2002
Xem thêm: Bé Bị Bẹp Đầu Cá Trê " – Bé Bị Bẹp Đầu Phải Làm Sao
Selected Publications
Dealing with the Donors: The Politics of Vietnam"s Comprehensive Poverty Reduction and Growth Strategy (University of Helsinki – 2003)A number of articles on Talk Law column in Vietnam Investment Review
Selected Speaking Engagements
Presented on behalf of local counsels in Vietnam Business Forum in commenting the draft decree guiding Vietnam WTO"s Commitments
Legal Notices Privacy Policy Cookie Settings Attorney Advertising Accessibility Careers Alumni Site Map Contact Us Other Languages
Duane Morris LLP & Affiliates. © 1998- Duane Morris LLP. Duane Morris is a registered service mark of Duane Morris LLP.
Xem thêm: Người Đàn Ông Suốt 20 Năm Đứng Sau Ốc Thanh Vân, Trước Khi Rao Bán Nhà Giữa Dịch Covid
Connect with Duane Morris on LinkedIn Follow Duane Morris on Facebook Follow Duane Morris on Twitter Follow Duane Morris LLP on Instagram Subscribe to Duane Morris RSS feeds